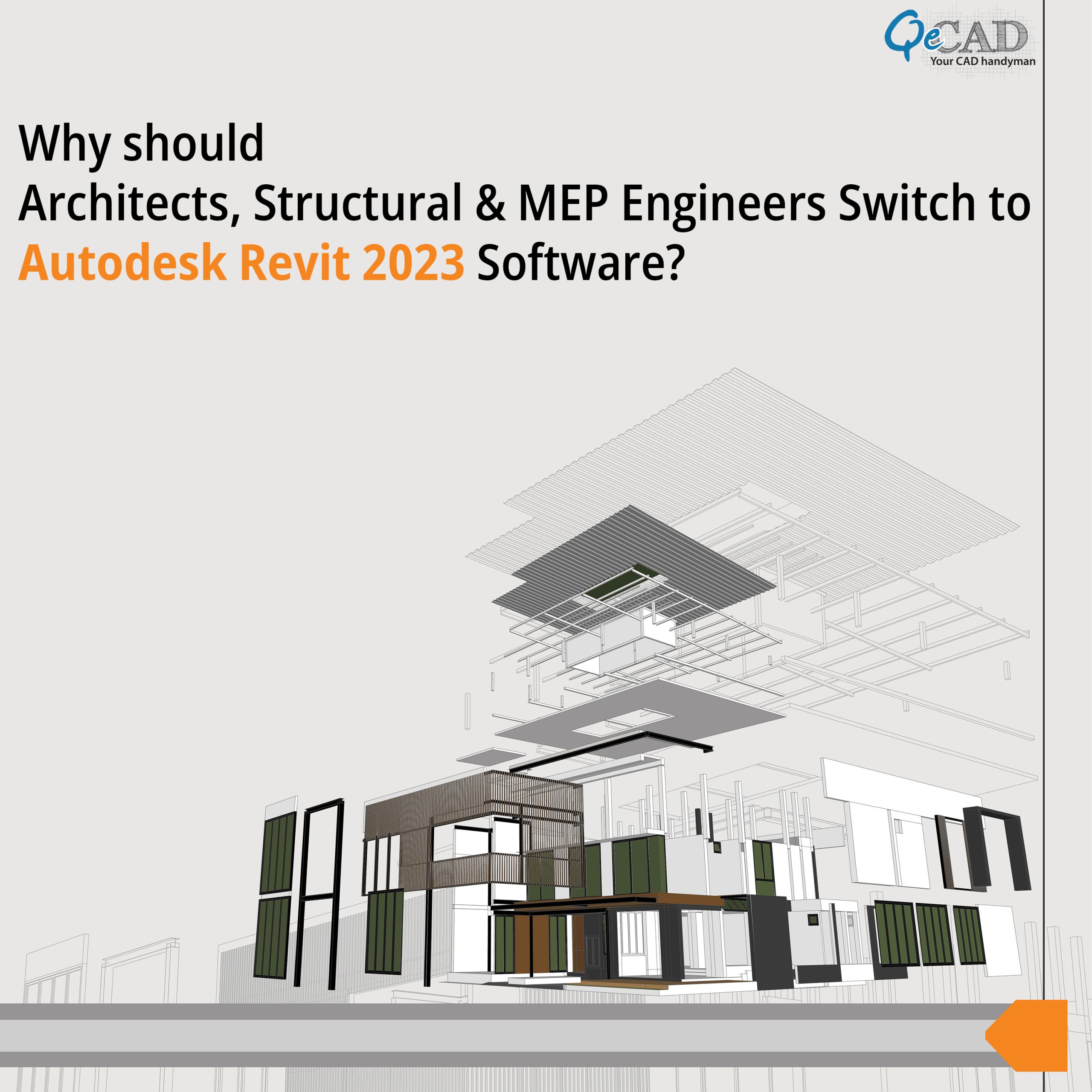 Autodesk Revit is a software used for building information modeling for architects, designers, contractors, structural engineers, and mechanical, electrical, and plumbing (MEP) engineers. It allows them to design and build different structures with various parts in 3D and map the relevant information while modeling. With the help of Revit, architects, designers, and AEC professionals can design, create and analyze the structures in detail. It also allows users to perform below activities:
Model shapes and structures in 3D with a parametric view

Streamline the design and construction flow along with documentation

Explore, iterate and redesign easily

Collaborate with team and workflows

Run projects efficiently
Autodesk Revit 2023 software has introduced many features in addition to the ones listed above to give Architects, Structural, and MEP engineers the reason to upgrade to it instantly. It is the more intuitive, fine-tuned, and performant Software for BIM design.
Why opt for Autodesk Revit 2023?
Autodesk Revit 2023 has unlocked many powerful enhancements for architecture, engineers, and contractors, such as
Improved cloud capabilities for data management 

Scheduling and documentations

Interoperability

Structural and Electrical simulation and analysis

Better Performance and more design productivity 

More ingenious software upgrades for design and modeling

Data exchange workflows and optimizations

Better and Faster computing, even with complex and large models
Above are the highlights of Revit 2023; let's dig in deep to learn more about some exciting features to go for Revit 2023:
1) NEW and Improved DYNAMO 2.13
The new Dynamo released has revamped and improvised the user interface. There are many improvements such as better warning windows, better groups, interactive wires, improved sliders, in-menu descriptions, generative designs, numeric entry boxes, scroll-over actions, new unit nodes, faster and better search, typos like google, and so on. Everything feels fresh and smooth.
2) MEASURE IN 3D VIEWS
The measure tool is available in a 3D view, unlike Revit 2022. This tool can be used without having to set up the work planes as done in SketchUp. Also, Chain- measures can be done in multiple work planes.
3) SUPPORT MATERIAL TEXTURES AND DECALS 
Cloud paths can reduce the number of images, broken links, and the feasibility of working away from a local server.
4) DRAW FILLED REGIONS IN 3D FAMILIES
Revit 2023 allows you to draw out filled regions in 3D families. These regions are only visible in the 2D views in which they were created and not in 3D.
5) CONDITIONAL FORMATTING
Conditional formatting with the "Family and Type" parameters in schedules can now be used in Revit 2023. It allows you to color different cells based on the family it belongs to. 
The list doesn't just end with the above features; there is more to it:
From Architectural Perspective
Improved color overrides

Performance Improvements, even in large models

Replace Elements and tags in 2D 

Rollback in RCM

Execution in Print, publish, and export

FormIt in Link CAD format and Sketch linking workflow
From MEP Perspective
New and improved MEP categories

Reposting MEP connectors

Maintenance of Demolished components
 

From Structural Perspective
Rebar shape enhancements

Library-based design automation

Wide adoption for

Rebar Detailing Services

Creating post-tension anchors

Rebar Covers in Schedules and Tags
Conclusion
Autodesk Revit 2023 strikes a balance of features and benefits for architects and structural and MEP engineers having significant additions and improvements for all of them. Faster processing and design upgrades and performance enhancement especially subjecting to the large and complex model, make it an ideal choice of Software anytime in the near future for BIM modeling Services.