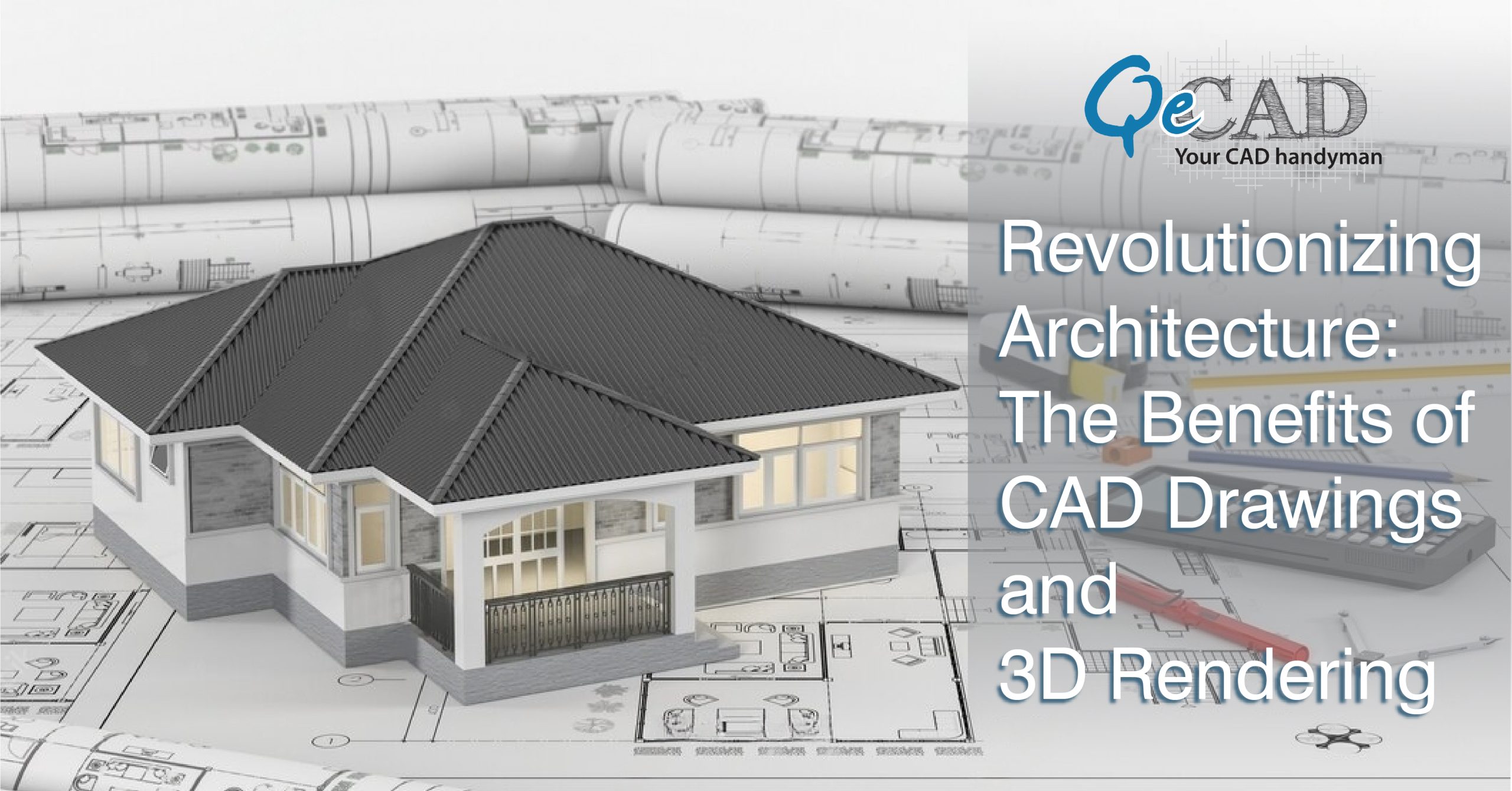 Introduction
The field of architecture calls for extreme precision as well as close attention to every little thing. A crucial step within the process involves generating precise drawings along with renderings, which CAD (Computer-Aided Design) software is making simpler as well as more productive than what exists. Within this blog, we'll look at how CAD and renderings services might aid the field of design.
CAD Drawings and 3D Rendering Overview
By employing specialized software, architects can produce CAD drawings that have been extremely precise and comprehensive. The program enables designers to alter different design components and view the manner in which they will be interacting with immediate effect. This frees up resources as well as time by allowing builders to execute their alterations swiftly and effectively.
Making a feasible, three-dimensional depiction of a concept uses the term 3D rendering. To accomplish this, designers might employ specialized software that produces extremely detailed simulations of their creations, replete with lighting, colors, as well as additional aspects.
Advantages of 3D rendering as well as CAD drawings within architecture
In the field of building, employing CAD Drawings Services and 3D rendering services has many advantages, such as:
1)  Increased Precision and Consistency
Using CAD software, architects can produce extremely exact and accurate layouts. To make absolutely certain the design complies with all required requirements, the software is able to be utilized for calculating lengths, angles, as well as other crucial parameters. By enabling architects to make incredibly accurate and extensive representations of their plans, 3D rendering goes one step more thoroughly. It enables them to precisely visualize the end result while executing any modifications that are needed prior to the start of construction.
2)  Enhanced Effectiveness
The effectiveness of the procedure for designing may be greatly increased by CAD software. With the aid of the software, architects can swiftly and effortlessly construct designs while implementing adjustments as needed. When juxtaposed with conventional design techniques, this may conserve a significant quantity of time and money. By enabling architects to gain insight into how their designs are going to look prior to building starts, 3D rendering additionally enhances effectiveness. This may assist in spotting possible problems ahead of schedule and thus averting costly errors.
3) Enhancing Communication
Design ideas can be explained to customers, subcontractors, and additional stakeholders using CAD drawings as well as 3D renderings. All project participants may benefit from having an excellent understanding of the design along with the final product thanks to the extremely precise and comprehensive versions. By doing so, it is possible to avoid misconceptions and guarantee that the undertaking will proceed as planned during the planning and construction phases.
4)  Cost reduction
Before construction starts, possible problems are able to be identified with the aid of CAD drawings as well as 3D renderings. This can assist in avoiding expensive errors and guarantee that the project remains within the allocated funds. Additionally, the software might be deployed to locate places in which goods and assets may be conserved, which further reduces expenditures.
5)  Increased Originality
Using CAD software, architects can test out various design components and observe the manner in which they appear in actual time. This may promote inventive design approaches and help to spark inventiveness. By enabling architects to make incredibly accurate and intricate representations of their concepts, 3D rendering goes one step further. This could inspire fresh concepts and produce even more inventive remedies.
6)  Better Marketing
Advertising collateral for a construction project or structure may additionally be produced using 3D rendering. Illustrations, videos, as well as virtual visits may all be a part of this. These items may be utilized to illustrate the structure's design as well as draw in prospective customers.
7)  Better Collaboration
Team members can collaborate more easily when using CAD models. CAD files can be shared among architects, engineers, and constructors, who can then collaborate on designs in real-time. As a result, everyone in the working group has access to the most recent design iteration and makes adjustments as necessary, helping to prevent errors and guaranteeing that the finished product lives up to the expectations of all involved.
Conclusion
For designers as well as architects working in the field of building, CAD drawings as well as 3D Rendering Services function as indispensable tools. They provide a host of advantages, such as more imaginative thinking, reductions in expenses, improved productivity, and improvements with regard to interaction and consistency.
We may anticipate the availability of even more potent CAD software and 3D drawing tools as technology develops. These instruments are going to continue to revolutionize how designers and engineers job, improving the effectiveness, efficiency, and enjoyment of the entire process of design for all parties concerned.