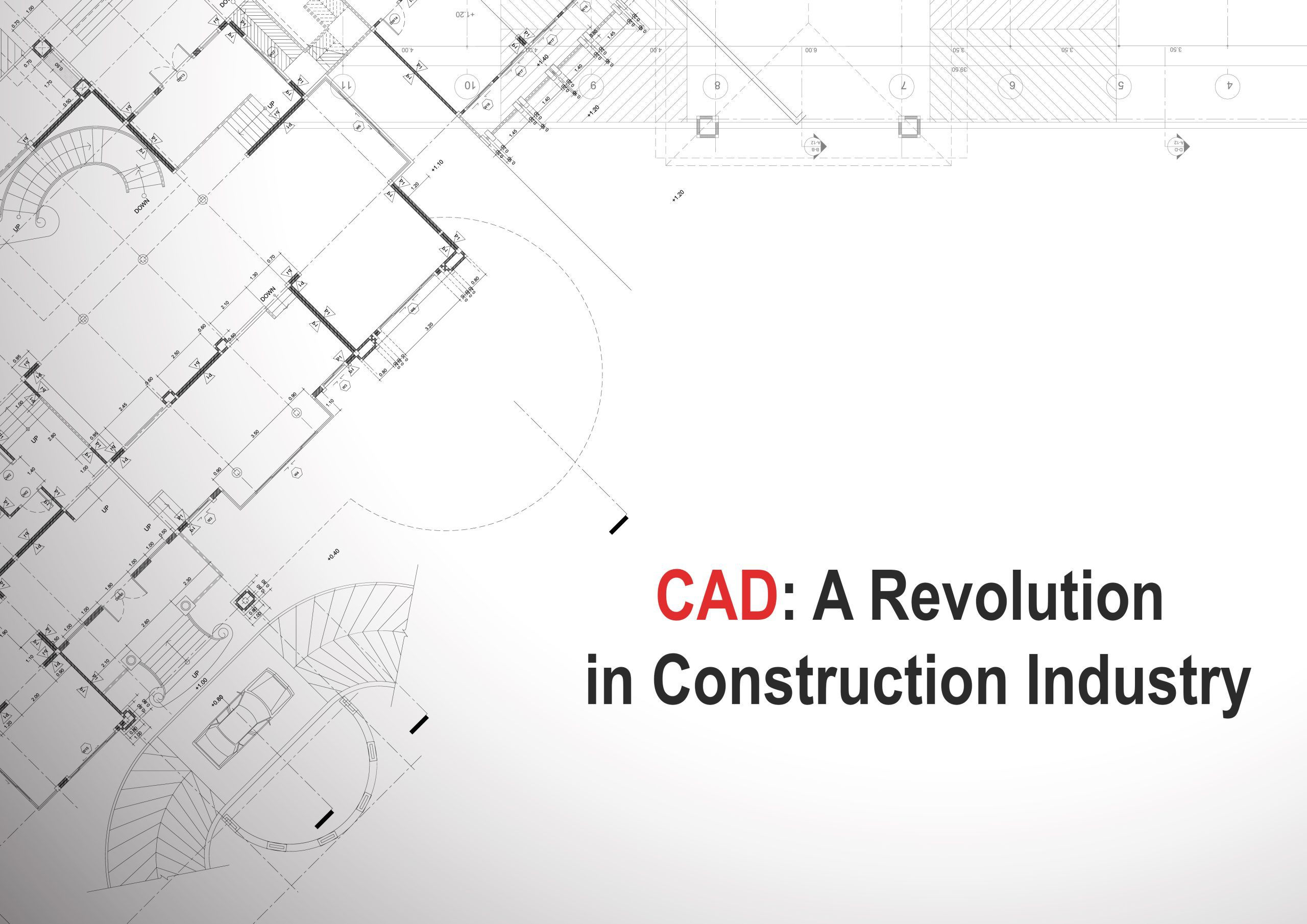 CAD acronyms for Computer Aided Design which specifically is used to create 2D or 3D designs, drafts, product development, and optimization in manufacturing as well as construction domain. It is quite a versatile tool as it allows engineers, architects, and construction managers in creating a graphical representation of any objects, editing them, and modifying them whenever needed. They can also add on information to their designs such as dimensions, descriptions, and other specifications for future reference. Thanks to CAD, engineers and other AEC professionals can now visualize the construction better without making the design look cumbersome. 
CAD: A Game Changer for Construction Professional
The evolution of CAD as a B2B software has surprisingly became a game changer for the construction industry. People have found ways to make the most out of CAD software be it getting an improved visualization of any construction project, rendering, prototyping, designing, or simulation, CAD has become a one-stop solution for all the design and modeling applications. An increase in CAD applications among all verticals is the reason behind the growth of the CAD market globally. According to Statista.com, By 2028, the global CAD market is forecasted to reach around $ 13.83 billion in size. This market is mainly dominated by 3D computer-aided design, a segment that was worth $ 5.5 billion in 2018.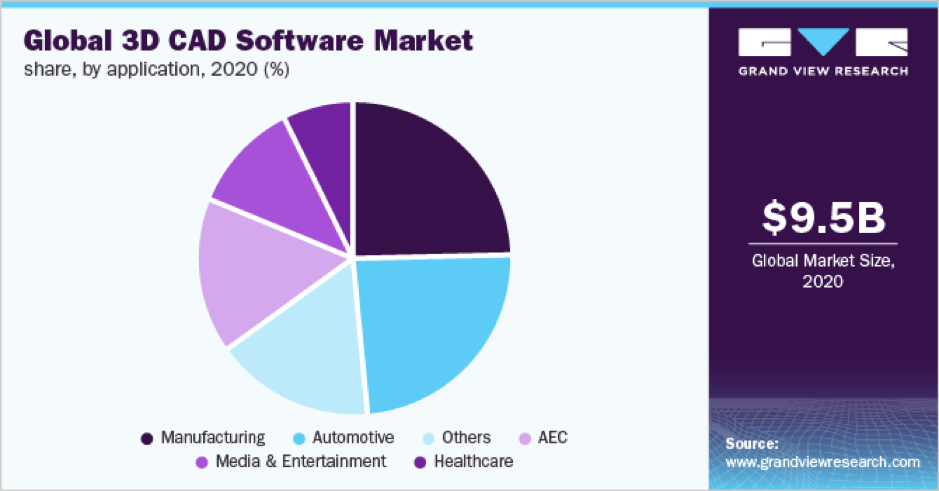 Source: https://www.grandviewresearch.com/industry-analysis/3d-cad-software-market
With CAD drafting services, designers and engineers find the best possible iterations for their designs. CAD solutions in many ways are found profitable for the AEC industry.
Reasons Behind CAD being a Rewarding Technology
1) Amplify Productivity
CAD has altogether replaced manual drafting for Architectural drawing services. It enables developers and engineers to speed up their design and drafts thereby cutting down the production cost and accelerating the project completion. In traditional times, designers and architects accomplished their sketches and drawings by hand which would consume days to complete. Replacing this with computer designing tools has made the task far more simpler, faster and communicable. With the CAD tool, AEC professionals can now recapitulate their designs, avoid manual calculations and save their work digitally for future use, and also share the same easily via the cloud platform. Since CAD allows proficient designing due to its inbuilt options, designers can now experiment on various angles, design simulations, and create premium drafts thereby increasing productivity.
It has been observed that implementing CAD has amplified employee productivity by 3 times on an average and it is forecasted that this may increase to 10 times in the near future.
2) Time-savvy
Replacing CAD with manual designing, time can be our remunerative reward. Drawing complex objects, shapes, and connections among various components now simply take fractions with just a few clicks saving an ample amount of work and time for architects that can be used in other activities or projects. With CAD, alterations and even redesigning have also got a lot easier. You can just replicate the existing 3D model and add the necessary information to redesign the model in less time.
CAD software has proven of great use when there is a time crunch in implementing any project. 
3) Predefined Image Stock
With CAD, designers can now just choose the suitable size of the standard parts which are common and are used in almost all sorts of projects for home design, windows, doors can be same, for machinery bolts, nuts and many others remain the same. CAD software holds the stock of such predefined images that can be directly picked from its image directory/ libraries. This saves a lot of time and works in re-designing every single minute of repetitive parts.
These parts can be easily resized and improvised with changing colors and angles for rendered images using CAD. It is not just a replacement for manual drafts, it has lot more features added that can ease out the designer's task.
4) Error-free Designs & Drafts
Manual works are more prone to errors be it designing or calculations or drafting bills of materials. With CAD, such errors can be averted. CAD software is quite advanced as it alerts for the wrong inputs while drawing and drafting which can be rectified immediately. CAD enables quick and error-free prototyping and alterations.
5) Easy File Sharing
CAD fosters better communication by sharing designs and drawings among the project team involved. The CAD file is stored in a cloud-based platform thus allowing access to all the team members irrespective of their locations. Any changes or alterations made in the CAD file can be viewed by the entire team remotely. This makes information sharing easier than the traditional method of carrying a set of documents and sketches which were more prone to get destroyed or damaged. This also improvises the collaboration and communication among various team members internally and on-field.
CAD has Taken Designing to the Next Level
CAD has changed the whole definition of the designing. It is not just commercial drawings; it is more of a conceptual design. It allows engineers to visualize any object or component from different angles easily for better interpretations. It produces both 2D as well as 3D diagrams with automated simpler steps. Not only designing, editing and modifications have also been easier, faster, and feasible. CAD is currently used in almost all verticals be it constructional, industrial, entertainment, or any other. It has also contributed a lot in fastening regenerative designs.
CAD and its Spinoffs
CAD whole and soul has been a profitable technology in the construction industry and other verticals as it reduces the time taken to build 2D sketches and 3D models. It also facilitates simpler and feasible designing and analyzing. It enumerates modifications and alterations and rectifies flaws prior to actual prototyping. With CAD, Engineers and Designers can showcase their creativity and take designing to a whole new level. With its technological impact, it has been a revolution for major companies. Many of the major players have been investing in R&D for syncing well with emerging technology and to gain a competitive edge. For instance, Autodesk developed a new tool implementing AI and automation named Dream Catcher, which allows users to generate hundreds of designs in a short span of time.
The use of CAD will intensify in the upcoming years with its added features to the respective industries.