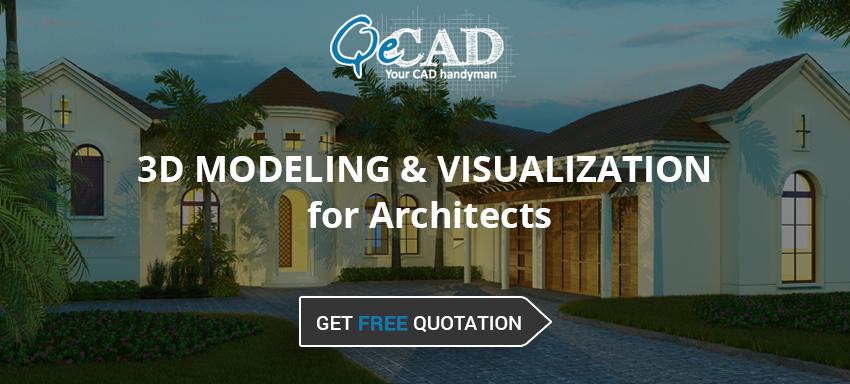 3D Modeling has been one of the most pivotal technological advancement for architects and designers world over. The biggest advantage of 3D modeling is the speed and accuracy it brings to complete projects along with an improvement in efficiency and aesthetics to architectural designs.
Looking for a 3D Modeling & Visualization partner for a project on hand? Get a Free Quote today!
How can 3D Modeling benefit your architectural and engineering design process?
The 3D model gives you a realistic view of the building even before it is built, a huge time and cost saving factor which helps eliminate errors in the conceptualization stage itself.

More efficiency with fewer resources and the ability to alter, analyze and test each individual component of a structure

More precision & control over your designs

An interactive and visual representation of your design to win over clients
Most Important — Finding a Right CAD Partner
Hitherto if you are keen to find the right partner then QeCAD is your CAD handyman. We specialize in 3D Modeling and Visualization services with an expertise in working on the latest and widely used 3D modeling software. We are a reliable CAD drafting and design partner to renowned architectural and construction companies worldwide. Our team consists of experienced CAD drafters skilled as per global industry demand be it AutoCAD, Revit, SketchUp and other major software.
Our Expertise
SketchUp modeling

Revit Modeling

Architectural Modeling and Visualization
QeCAD Benefits
Experienced designers and agile drafters

Rigorous quality check before final delivery

Competitive and fair pricing

Quick turnaround time and constant support throughout the process
To hire us for your immediate or future requirements, get a quick quote from us.